Ascend-a-Friend Referral Program

Become the most popular Ascended in Telara by recruiting your friends in-game or through email, Facebook, or Twitter. Complete more challenging dungeons and raids with your new allies and earn Referral Coins when your friend purchases Credits (or redeems game cards) for RIFT. Ascend-a-Friend today!
HOW IT WORKS
Step 1

Send an invitation via email, Facebook, or Twitter.

Step 2

Your friend joins you in RIFT.

Step 3

Your friend makes a purchase in RIFT.

Step 4

You earn Referral Coins to spend at the in-game store!
*Note: Only new players who have yet to purchase RIFT Credits or products are eligible for Ascension.
RECRUIT FROM IN-GAME
Ascend your friends without leaving RIFT! Just click the Social icon and select "Ascend-a-Friend" to begin.
RECRUIT FROM YOUR ACCOUNT
You can also Ascend your friends from your Glyph account by logging in below.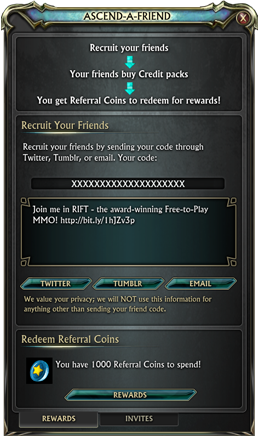 REWARDS

Visit the in-game store to see the selection of Ascend-a-Friend items. All items are purchased on a per-character basis.

Gameplay requires: (1) INTERNET CONNECTION (SOLD SEPARATELY), AND (2) ACCEPTANCE OF LICENSE AND USAGE TERMS. Provided on a commercially reasonable, "as is" and "as available" basis, without warranties or conditions of any kind. Trion Worlds does not ensure continuous or error-free access, use, or availability of any game content, feature, gameplay, or server and may change, modify, disable, suspend, or remove any such content, feature, gameplay, or server at its sole discretion. Travels in Telara beyond level 10 will require a registered RIFT account.